SYDNEY SIGNS PORTAL INSTALLS 180 METERS OF FROSTING FOR TAYLOR CONSTRUCTION GROUP.
We are happy to announce that on October 24, 2014 Sydney Signs Portal successfully completed a large-scale Glass Decal project at Macquarie University. The installation of glass frosting was ordered by Taylor Construction Group for the new premises of The Australian Institute of Health Innovation (AIHI), who recently announced their intention to relocate from the University of New South Wales to join the Faculty of Medicine at Macquarie University.
TAYLOR CONSTRUCTION GROUP CREATES NEW SPACE FOR AIHI
Taylor Construction Group is one of Australia's largest, fastest growing construction companies, specialising in Commercial Construction, Retail Construction, Industrial Construction, Aged Care Construction, Educational & Universities, Motor Showrooms, Refurbishment & Fitout Projects. One of their latest Interior Fitout projects was the new office space for Australian Institute of Health Innovation, which occupies the entire sixth level floor of one of the Macquarie University buildings.
AMAZING GLASS DECAL PATTERN DESIGNED BY DWP|SUTERS
The new premises for AIHI – including the privacy frosted decals – were designed by dwp|suters, award winning architects and interior designers who specialise in Architecture, Interior Design, Master Planning and Urban Design, creating exceptional spaces for life, work and community. The amazing geometric pattern was designed to be cut out of a matte frosted film which is 1200 mm wide. When it was installed on the surface of glass partitions, it transformed the space with a contemporary look that was a highlight of the new premises.
DECAL INSTALLATION TURNAROUND: 7 DAYS
Frosted glass decals 1200 mm wide with a cut-out pattern were installed by Sydney Signs Portal on the glass walls of 31 offices – the entire sixth level floor in one of the Macquarie University buildings. The total length of the frosted material used was 180 linear meters. The type of the material used for the decals was dusted vinyl film – a product that helps to create a sophisticated matte effect on glass, ensures total privacy while allowing enough natural light to enter the room.
MAINTAINING HIGHEST QUALITY STANDARDS
Frosted window films are unforgiving with any mistakes made during production and installation. Even the smallest error leaves a visible defect which cannot be corrected, resulting in several meters of frosted vinyl material going to waste. This is one reason why Sydney Signs Portal is committed to maintaining the highest quality standards when performing the window film computer cut and installations. The frosted glass decal was cut with precision on our imported Japanese equipment. The next stage was to inspect and ensure that all the glass was perfectly clean, as any dust, dirt, oil, sand, paint, masking tape or any adhesive residue may affect the quality and durability of the decal. If not clean, any contamination will remain under the frosting for years and be a visible, unsightly annoyance. Once the glass was ready, Sydney Signs Portal took great care with the installation, paying extremely close attention to the finest details.
ONLY PREMIUM QUALITY MATERIALS
Sydney Signs Portal goes to great lengths to source the best quality materials for all projects. For the Macquarie University project we used Avery Dennison® MPI Dusted Glass translucent vinyl, which is a polymeric calendered window film. This simply means – one of the best. It is created to provide excellent dimensional stability (does not shrink or change its shape) and superior indoor durability – 9 years on internal glass partitions.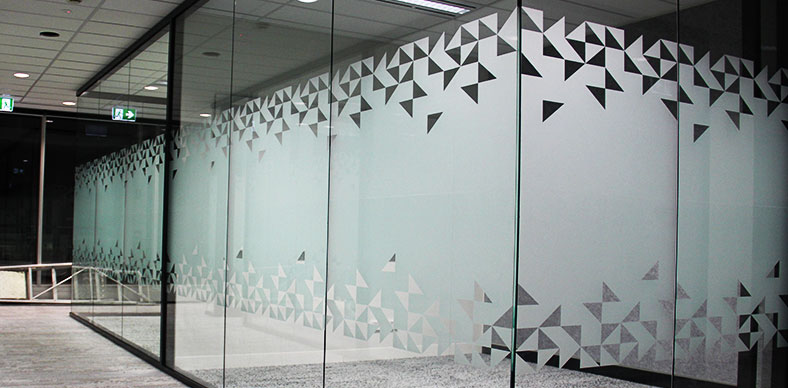 ---