Walls that talk
Much like when a tattoo artist sees inkless skin, or a painter sees a blank canvas – as a signage company, we do not like blank office walls. Those walls need to have signs or graphics on them, and quickly! To walk through a branded office, allows you to enjoy that feeling of completeness. It's welcoming to your visitors and imbues the space with a dynamic and vitality that helps everyone be more productive.
Office Wall Signs and Graphics
The question is: what is the best way to add a dynamic feel to your office without overstimulating? How do you get the balance right of augmenting the space, just sufficiently to inspire, but not so much that it ends up being a distraction? Incorporating professionally designed office wall graphics is always a good starting point. The bonus is that you always have the option of those office wall graphics carrying your brand. A professional team designing your office graphics understands that less is more, and appreciates what it takes to be engaging without overwhelming. And having been called in on projects to correct the poor work of less experienced designers, we have seen first hand the way that incorrect office graphic choice is jarring to the eye and draining on personnel.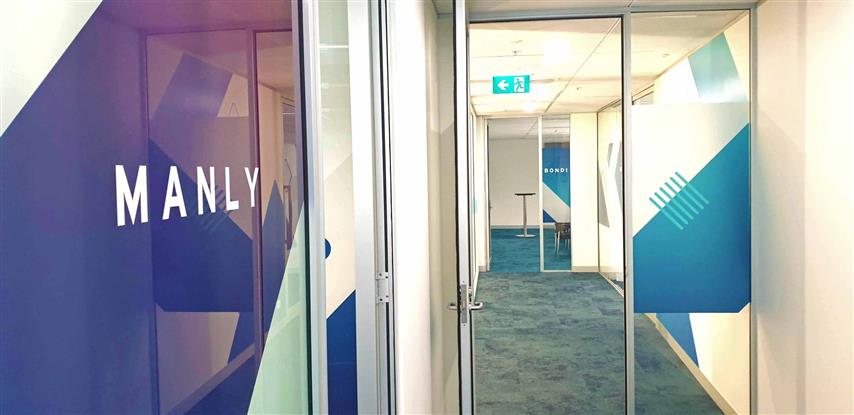 With the assistance of the professional team designing your office graphics, a clear message will be conveyed to all staff and visitors, highlighting the good corporate culture and exceptional integrity within your walls. A good example is a project we completed for Basware. The thoughtful design and skilled installation resulted in stunning geometry, seamlessly flowing from glass panels to walls, and further extending to glass doors.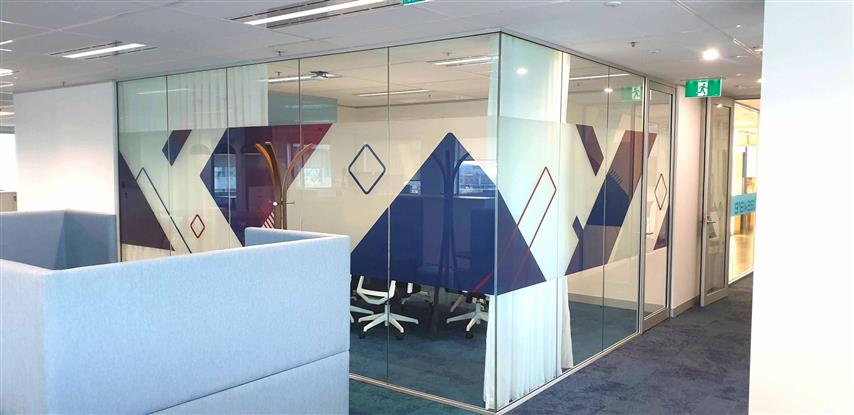 Window Privacy film and more
This type of quality and precision impresses all, as it tells the story of your company's integrity. The colours are in line with the client's corporate branding: understated while making an impression. In our line of work, it is hard to pick a favourite medium we work with, but we can't overstate just how much we love our clients asking us to include window privacy film with a corporate branding print. And while it provides an added layer of protection from disturbance and interruption in a busy office space, we see it as an unsung hero, discreetly contributing to smooth day-to-day operations and productivity.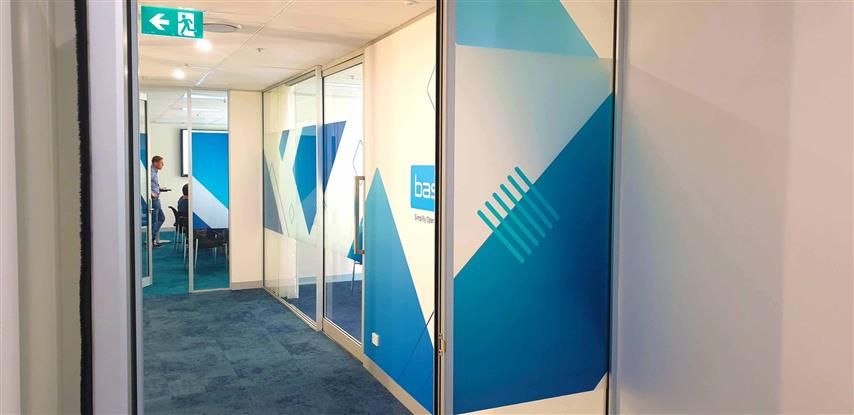 The Basware project also provided us with the opportunity to contribute to the current modern trend of assigning Sydney suburbs to office meeting room signs. In this case: Bondi, Manly and Coogee. Always remember that wall logos with added wall graphic elements are forming wall signage that speaks to your conscious and subconscious mind. And bearing that in mind can only help you appreciate how important it is to get it right. And if you want to get it right, please contact Sydney Sign Portal to assist with your project.