Looking to create impact with your front of business marketing? Perhaps privacy or security is required for your location? The beauty of glass print one way see through film is that it offers both these solutions and much more.
What is it and how does it work?
One-way vision film is printable perforated self-adhesive vinyl. When viewed from the outside, the public can see a graphic window print, displaying your marketing or branding. But its truly amazing quality is that anyone inside the window, looking out, can see the outside world. It achieves this by taking advantage of human optics.
Our eye is naturally drawn to brighter colours. The graphic is printed onto the white vinyl film surface, while the holes are not white or printed, so remain darker. This means that when the graphic window print is viewed from the outside it appears solid, but with the adhesive side being dark, when viewed from the inside, our eyes are drawn to the bright, outside world.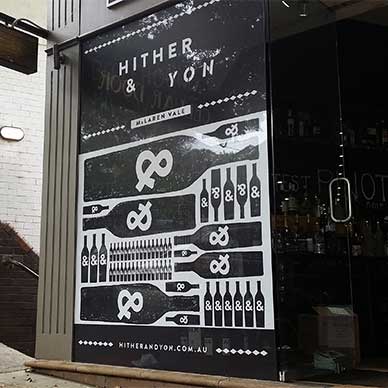 And while it works on any scale, what this fantastic product allows you to do is think big when it comes to your graphic window print. Having your entire business front window covered in glass print one way see through film will give you incredible presence, and enable you to dominate the otherwise crowded Sydney advertising space.
Please contact our experienced team at Sydney Signs Portal today to take advantage of this wonderful marketing opportunity.