1. PRIVACY
Basically window frosting is used for privacy. It is installed in offices, boardrooms, meeting rooms, storage rooms, and also in private homes – in bathrooms, showers, laundries, toilets, low lying balconies and on front doors. Even when the highest level of privacy is required, window frosting is still the best product for that – it is not transparent at all. Privacy is the most popular feature of the frosted films, but not the only one.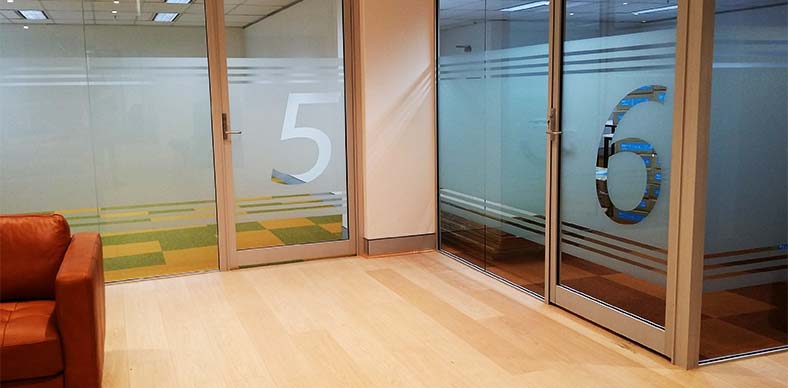 2. Decoration
Window frosting is also widely used for interior decoration. Patterns, flowers, branches, geometric shapes, all types of stripes and squares are used for frosting. Computer cutting makes it possible to create endless design options for offices and homes, combining it with privacy and sun protection. Window frosting decorations are very delicate, subtle and exquisite. Compared to other materials, window frosting adds elegance and brings a space to life.
3. Office Branding
Window frosting is used for office branding. Your company logo and signage can be computer cut into the frosting that is intended for any particular window. We can create frosted lettering, frosted logos, frosted graphics or frosted patterns, instead of making it simply black, white or some other color.
4. Sun Control
Window frosting is used for solar heat control. It prevents rooms from getting too hot during summer days and helps to reduce energy consumption and save on air conditioning costs. Window frosting can also extend the life of curtains, carpet and furniture fabrics, by limiting the amount of sun bleaching these items would otherwise be exposed to.
5. Security
Window frosting is used for security – preventing potential thieves from being able to view the valuable contents in a room.
6. Shattered Glass Protection
Window frosting is also used as a protection against shattered glass. Frosted film creates a safety layer on a window and is able to hold sharp glass pieces together when a window is broken, prevents them from scattering, causing damage to the interior and injuries to people inside the room.
7. Printing On Frosting
Window frosted films are printable which can be used for branding and interior decoration as well. We can print literally anything on window frosting.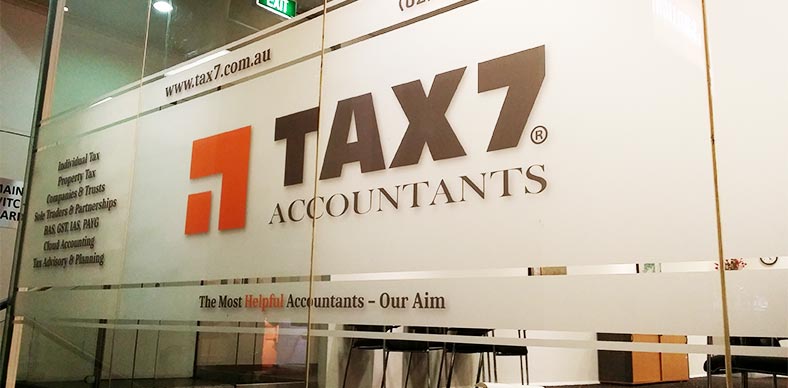 8. Cut Outs
At the production stage we can cut letters, graphics or stripes out of plain window frosting so it could be installed both for privacy, decorative purposes or branding. Allowing small channels of visibility helps create a non-claustrophobic but, still, private space for those inside.
9. Matte Or Sparkling?
Frosted material can have various effects on glass: frosted, dusted or sparkling – depending on the choice of film. The majority of companies in Sydney prefer a so called "dusted window film" to create a neutral, translucent light grey effect with matte finish. Frosted film will appear translucent matte silver – though it depends on the manufacturer as to how much "silver" you will get – it varies between brands. Sparkling window film will normally have microscopic metallic particles in it to create that sparkling effect on glass, but remains smooth and translucent like other types of window frosting.
10. Inside Or Outside?
Window frosting is generally applied to the internal side of the window. It is not designed for long life outdoors. Good quality window films will last for many years outdoors, but still not as long as the same frosting installed internally.
11. Wet Application
For window frosting installation, a so called "wet application" method is used. It means the glass surface needs to be sprayed with soapy water so the frosted decal can slide on the glass to be perfectly positioned and leveled, and easily re-positioned if needed. Wet installation also prevents frosted film from being damaged, as the film becomes more flexible and manageable, helping to avoid bubbles and wrinkles.
12. Wet Cloud
On the installation day a frosted decal may look slightly cloudy. Because of the wet application method, we usually allow several days for window frosting dry. Drying results in the natural evaporation of the so called "wet cloud" under the frosting, usually within a week. Drying time depends on many conditions: room temperature, glass temperature, humidity, sun in the room, or air conditioning.
13. Too Easy to Maintain
Frosted windows are very easy to maintain. Frosting is water and detergent resistant therefore it can be easily cleaned with water and mild detergents. Though abrasive cleaning materials and sharp tools should not be used on frosted areas of the glass as it may scratch and damage the film.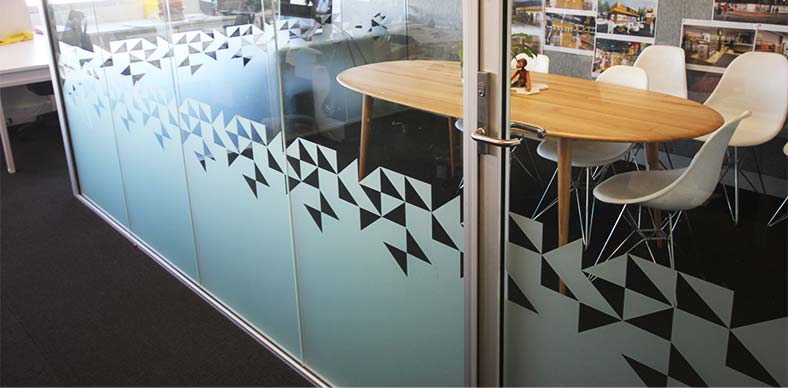 ---